As many of you know i have a fair bit of trouble walking and as such can't take my dog for a "normal" walk on the lead so i needed some transport to get him to the nearest field where i can let him run.
So i made a shortlist then investigated running costs including insurance which narrowed the shortlist to 2 possible cars. One was the Jeep Cherokee XJ and the other was this :
Bought for £350 with no MoT or tax, you might say i need my head examined!
However it looked fairly tidy and apart from a blowy exhaust and a worrying intermittent dash light for the ABS, it seemed fairly ready for the MoT.
On the day i picked it up (which turned out to be its 23rd birthday!), i arranged temporary insurance cover and booked an MoT at my favourite station. I took some Jubilee clips and dog food tins with me to patch the exhaust before i left and set off.
After a fraught journey to the nearest filling station filled with the engine dieing every time i braked going downhill due to low fuel, i was able to head for the A14 and commence my baptism of fire!
On the homeward journey something happened that would have been a failure so it was lucky i needed the loo :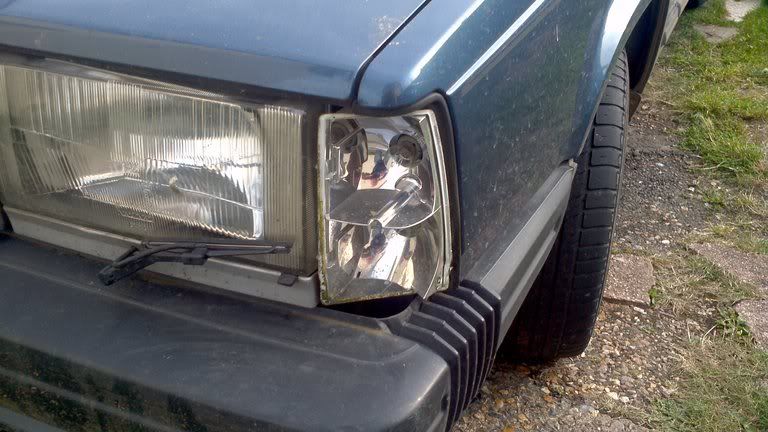 Found losing the lens was quite common as the old glue fails and took that as my cue to cancel the MoT and take a bit of time to check things over before booking it for another.
With a new indicator/sidelight unit installed (under a tenner brand new and delivered from
GSF
(previously known as German, Swedish and French) and the dog food tin bodge on the exhaust slightly improved and various bulbs, wiper blades and a few other bits fixed or replaced, i presented it for MoT a month later and (after a sticky moment on the emissions) got a pass certificate!
The intermittent ABS light was traced to duff sensors on the front wheels. As there is no memory on the system it has fitted, it got a pass on them but they were replaced with a pair of second hand ones. Turns out the front sensors on this are the same as the rear ones on 800s, except for the plug and cable length - result!
That was 11 months ago now, and after finding many half done jobs (eg head gasket replacement, bolts only tightened to 15 lb/ft i.e Stage 1 of 3!) and fixing them, fitting various new parts including a complete (except front pipes) exhaust system, 4 near-new Pirelli P6000 195/65 HR 15 tyres, cam belt (see below), oil pressure switch (last one failed Exxon Valdis style, pumping oil straight through the switch and out of the casing!) and sorting the multitude of half done jobs, it flew through the MoT and for once in my life i had a car with 13 months test on it!
The testers only comment was "Well it's pre-cat but obviously got one somewhere" - looking at the emissions tester machine, i could see his point, 0.07% CO and 31ppm HC. Pretty good for an engine with about 200k miles on it!
That was just over a week after doing an emergency cambelt replacement :
(Click to play)
Although not shown in that short video, i could move the crankshaft from 10BTDC to 10ATDC without the cam moving from it's timed position as shown at the start and could easily have slid the belt off the pulleys without touching the tensioner! Another half-done job by the so-called mechanic that allegedly looked after it before i bought it!
On the additions/modifications side of things, i've done the following so far :
Front fog lights
Driving lights
Xenon bulbs in the major front lights
Panasonic radio/cassette head unit with 10 disc changer (Fleabay bargain, £12.67!)
Green LED instrument and switch lighting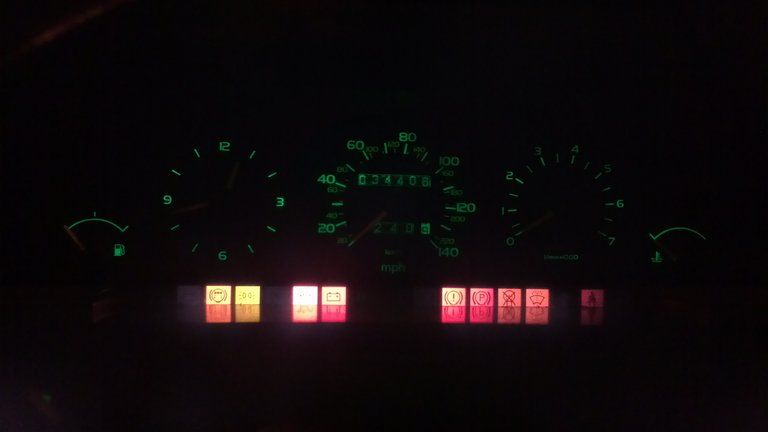 Twin tailpipe back box (B230ET aka turbo original back box)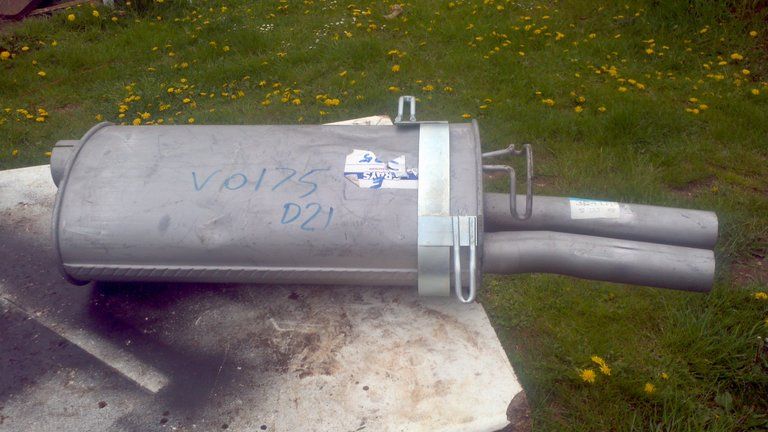 Oh yeah, an aftermarket interior light delay and last but not least, clear side repeaters from a later model Volvo.
That's about it so far on the mods/upgrades etc but future plans include converting the cooling fan from being a vicious coupled unit to electrical operation courtesy of a Rover 800 cooling fan (almost fits like it was made for it!), remote alarm/immobiliser with central locking output, cruise control, replace the non-existent headlining, spray the drivers side front wing (it's the right colour or was once but the lacquer and some of the paint has oddly peeled), replace the drivers seat with one that isn't split (or maybe all the seats/trim with black instead), maybe add a few LED instruments (if i ever get round to finishing them and installing them on my Sterling first!) and some 960 window switches because they have illumination in so you can find them at night!
Will update with photos etc as and when i do jobs on it........