**You may need to maximise viewing window to view pictures side by side as intended**
Well i already had a 99V 825 Sterling since March04 which I try to keep like a jewel, but I always hankered after a late MK1 f/b since having a Nordic Blue 90H 820i f/b manual in the early 90's. The plan was always to wait until we had a place with a nice big drive for the two cars etc, but then this came up for sale in Dec08 and I just couldn't ignore it: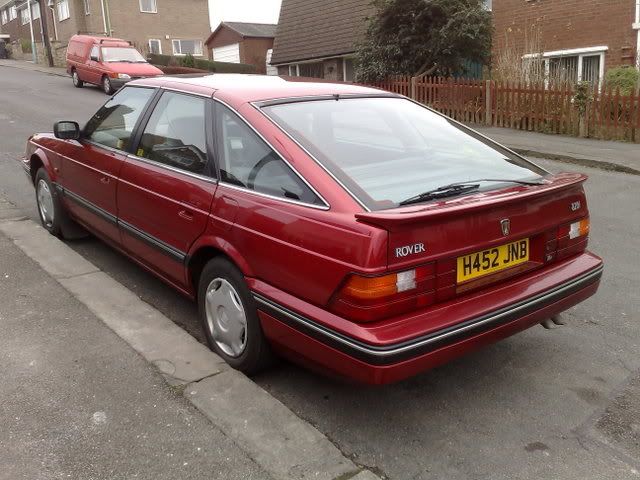 So I went to see it and bought it. Registered July91, 57k miles (allegedly, who can know?), tax Jan09 and MoT July09. Paper and online MoT records support the mileage back to 2001, if anyone knows how I could verify more I'd be pleased to know. Apparently seller had replaced some exhaust valves, timing belts and head gasket, so I thought that should be some of the main worries taken care of. Seller was a small maintenance garage who occasionally dealt in small cars who had taken it in part exchange from a long standing customer. We agreed a price of 420 quid and I collected it the next day. Now, I know many would say this old thing is not worth anything like that, but it was really in very good condition and I didn't think I'd see one as good for a very long time. For me it was worth it for the long term, and the money a relatively small sum.
Overnight I arranged insurance for less than 200quid (tpft but including glass) with a separate insurance company who "mirrored" (ie not actually using) my 10yrs no claims, currently in use on the 99Sterling. For anyone else experiencing two car ownership for the first time, this seems to be the way to go - I couldn't find any so called multicar insurance anywhere near the price of two separate policies. At the end of year one this company will issue me a full stand alone 10year bonus for use anywhere else.
I also took out RAC breakdown cover as a precaution for the long drive home.
Next day, driving it home to London the 150miles or so, there was pretty bad shimmy above 60-65mph, and I plodded home at 60 hoping it would only be wheel balancing. Also, radio code missing, interior lights not working, warning chime came on when lights on and engine off but with all doors closed. Minor things I thought should be do-able.
Day after getting it home I took it to my garage for full appraisal. The Rover Centre in St Albans (I live in North London and work in Luton) has been looking after my Sterling for the last year and they have a detailed approach that satisfies my fussiness. They have good knowledge and experience in Rovers and are happy to use parts supplied that are cheaper than their sources - and many parts are getting hard to come by of course.
As there was no rush from my side they took about a week to come up with the following, all of which I was braced for and mentally budgeted for when I bought the car:
NS repeater inop
Hazards inop
Front washers need adjusting
Screen wash stagnant - foul smell in cabin when used
Rear wiper blade split
Radio code needed
Sunroof seal started to lift
(where two ends meet on rear edge - had this on the 90H I owned before - no leak or problem)
NSF window slightly "notchy"
Both rear windows very stiff (manual winders)
All courtesy lights inop
Minor chips in windscreen
- really unnoticeable, cant actually find them myself
Front bumper scuffed
Various small dents and scratches
(judge for yourself from pics - they really are very thorough/fussy)
Water in spare wheel well
Starter motor occasionally stays engaged
- never happened to me
Battery clamp missing and thread stripped in battery shelf
Battery terminals loose
Fuel filler neck rusty
Expansion tank not holding pressure
Radiator very very poor condition
Lower and rear metal coolant pipes very very rusty
Brake fluid very dirty
NS main front to rear brake pipe very rusty
Lower and rear PAS pipes very rusty
PAS fluid cooler pipe very rusty, had been cut and bypassed (!)
Slight play in NSR wheel bearing
- deferrable
Tyres perished and some incorrectly fitted (directional)
All shock absorbers slightly leaking
- fine mist of oil - deferrable
Front shock lower bushes soft
- deferrable
OSF top arm inner mounts and upper ball joint - excessive play
Front anti roll bar links split - knocking
Rear anti roll bar bushes started to perish
Front outer CV boots perishing
Front ABS reluctor rings very rusty
Fuel tank rusty
And they commented that in their view the timing belt and head gasket were recent replacements
So, a plan of action was needed and some 3-4 weeks were spent prioritising jobs and figuring out part sourcing.
In the meantime, I found a set of five 15" 91 sport alloys with tyres for 20quid in Yorkshire. I got my garage to clean out the screen wash bottle and do what they could with the wheel balancing so I could use the car for the drive to get them. 4 of the tyres were good budget tyres, the 5th perished, but he also had an unused 15" steel spare with a new Michelin Pilot tyre on it. He also had a new coolant pipe that looked like one of my rusty ones, and a handbrake cable he wanted shot of. I gave him 40 quid total for the lot and he took the pics you see at the beginning of this post.
Back down the M1, I dropped the four alloys with the best tyres into a refurbishing place near Bovingdon, then back to the Rover Centre. The fifth alloy would be a spare to be refurbed if I ever totally trashed one of the others, and the new steel spare with Michelin tyre would replace the manky one in the boot.
Next, Christmas and New Year got in the way, but this gave me time to find savings on parts.
Own shopping for parts I did on eBay:
Alloy wheels - described above + 140 to refurb with concealed balancing
Radiator - new, boxed 51quid (vs 222 from garage)
Indicator stalk switch (for hazards problem) 16.40 vs >100!
Lower metal coolant pipe - included with alloys vs 25quid at garage
Front anti roll bar links - 12.00 vs 77.00
CV joint + kits - 44.00 vs 242.00!
and a little something for dessert:
Brand new MK1 rear mudflaps in packaging - 14.48
So there was a lot of money saved on new guaranteed parts (except the indicator stalk assembly) and my friends at the Rover Centre were very happy to spend time with me verifying items before I bought them and encouraging me to make savings because they genuinely wanted to see the car tip top.
Everything except the items in bold were done for 22 Jan 09. Courtesy light bulbs had beeen removed because drivers door switch was signalling always open (hence the incorrect lights on warning buzzer). This was changed and bulbs replaced for princely sum of 7quid for the switch and 51p for each bulb! Fuel filler neck and fuel tank cleaned painted and treated with something I cant remember plus waxoyl. PAS pipes - parts not available but new MK2 parts adapted saisfactorily. Front to rear main brake pipes not available, but they custom fabricated for me on both sides. They had done it before for me on the MK2 Sterling. Wheel well water - they found a rubber bung missing from a hole behind the left rear light cluster which solved it.
By the way the garage went ahead and waxoyled the whole underside of the car for me at no charge as a surprise when they walked me round it on the ramp afterwards!
So, just the shocks and NSR wheel bearing to come. I dont think these are urgent and may well go some years before they are needed. Apart from these, everything we could find (and we did look hard) is done! Cost:1350 which I think is OK for investment in long term ownership. I expect a sail through next MoT!
Alloy wheel after refurb:
Car inside the garage:
So now I am LOVING this car to bits. Not since I was a teenager have I found myself trotting to the window just to look at it. I always wanted Nightfire and I always wanted those wheels since 1990 and now I have them! It turns 18 this July and I hope I can still have it looking and running like this when it is 50.
Hope you enjoyed the story.