Pic of trim. Due to perspective it looks like it might fit but it is actually quite a bit smaller. DOH!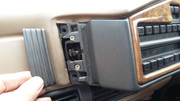 Thanks for the diagnostic info. I'll have a play...
Oh it's seconds without moving.
ETA I found a set of sensors in the box of bits I got with TGM, but they all have two bolts where I'm sure mine only has one. Poss Mk1/2 difference?