Instead of hijacking other peoples' threads with what I've done to my cars (sorry), I thought it's about time for my own thread. Whilst most of what I do is not as spectacular as some on here it still might provide ideas.
I'll continue with something that I have recently mentioned in Manalishis' thread, namely that I broke my 'Sixth Light Finisher', aka rear quarter-light removing it to get to the leaking window. Using the method I have mentioned elsewhere (another hijack), I have fixed it. So this is what it started off as (well, it started off unbroken...);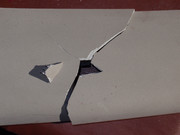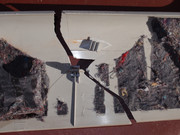 The first thing was to restore some form of integrity which I did by using a two part epoxy glue;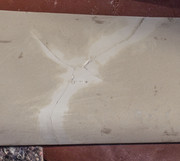 I scraped off the excess to give what you see above. It was then re-enforced on the inside with a layer of fibreglass with a sheet of perforated corrugated metal stuck on top, followed by another layer of fibreglass. I'll apologise now for the rough finish as it went off quicker than I would've liked.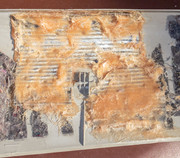 I also managed to break two tabs on removal;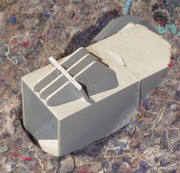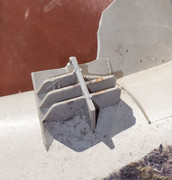 which were the two end ones of the fastback roof slope. Then, to add insult to injury, I broke a third tab, the middle one trying to get the metal clip off
.
I made a template of the tabs using 1mm thick plastic card (two will be used for each tab);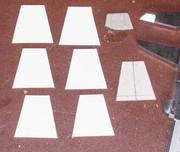 and there are a couple dimensions which are common to all. First, the width at the top is 16mm and two, the top of the tab is 11mm above the shoulders. The angle of spread of the tab is also constant, so the base of the tab where it hits the main part of the moulding will vary on overall height.
Channels were cut in the shoulders leaving a small element of the original tab;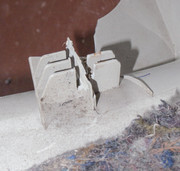 On to which the new tabs with fillets were stuck with two part epoxy;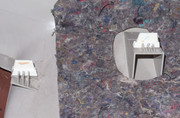 The wonder product called 'Milliput' was liberally applied to tie the new tabs into the moulding, paying particular attention to the middle tab area where there was an actual hole;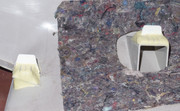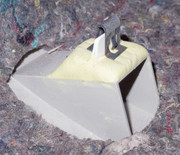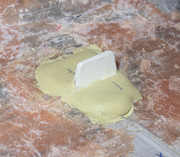 The tabs were sanded, shaped and metal clips replaced. I applied body filler (more precisely, Gelcoat filler) to the face of the finisher and sanded that smooth;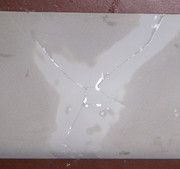 There are no open cracks, the darker lines are full of epoxy, so when I apply a covering it will be even and un-noticeable.
So I'm now back to a point where I would've been if the piece had come off without breaking and it only took a day!
Somebody please explain to me how to get the pictures into the main body of text without having to click on them.