I've been busy over the few days leak chasing and interior refurbishing. Did my roof liner today for the Sterling, here it was before;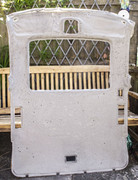 Showing very much the worse for mould growth whilst it stood full off water from a few months of none use and a poor winscreen replacement where whoever did it, did not prep properly and caught the front of the liner in the windscreen mastic. Still, as I'm quietly confident that I have got the front leak (more on that later), I have done the liner ready for reassembly. This is it now,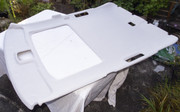 Vastly improved, not that hard to do and not expensive. Well worth it!