Been a while again so thought I'd say hello.
No Rover purchases but I have bought another Jeep and several Astra Twintops since my last visit.
I'm not up to my record of 800s yet but its definitely got out of control. Hands up who could see that coming?
Here's a pic of my Jeeps together. I'm keeping both for the time being. I'm undecided on the blue one but it was cheap so I won't lose on it whelatever I do with it.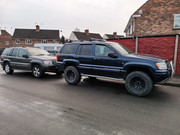 A random picture of my drive. The contents have changed but somehow things are still the same.
We've currently got 8 Twintops, 2 Jeeps, Astra Estate, mum's Picanto, caravan and a car trailer at home. So space is at a premium.
Nobody's fault but mine though.