For quite a while now I've noticed the odd R800 number plate on various different cars.
Never anything Rover related though.
Last weekend while out I spotted a surprising choice of plate on a SEAT.
I wished I'd actually taken a photo of it now. It amused me anyway.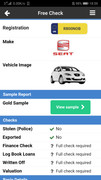 A quick Google has come up with these.